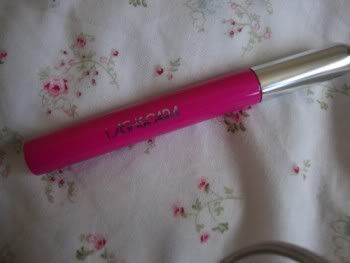 I picked up this product at my local Tj Hughes not knowing much about the product at all. It's only selling point was that I managed to get it for £5 (the RRP is £13 http://www.hqhair.com/make-up/modelco/lashscara) and I had heard good things about the brand. This was a few months ago now and when I finished my L'Oreal Voluminous I broke open the mascara and to my horror I was faced with this: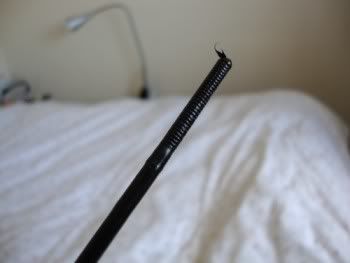 WHERE WAS THE BRUSH!? I have never ever bought a mascara like this before and to be honest if I knew what was lurking inside the horrendous bright pink tube then I wouldn't have bothered buying it. Right, Well I'll admit this now, I was wrong and this mascara is bloody brilliant! I've been using it for a few weeks now and I was soo happy with it's results.
Here's a quick snap of one coat of Lashcara: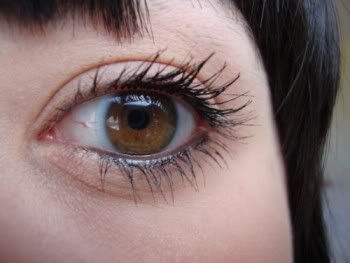 It volumises and lengthens lashes and the results remind me of when I was using my Lilash and my eyelashes were really long and thick. I have stopped using Lilash for about 3 months so my natural eyelashes aren't looking too hot at the moment.
One thing I don't like about this product is the packaging. There's nothing much to it and it's very cheap looking. For the RRP of £13 I would expect a higher standard of packaging. Even if the packaging was plain black with the silver writing it would look considerably better (I bet this would be cheaper to manufacture aswell!)
Is this value for money though? At a RRP of £13 I don't know if I would actually pay that much for a mascara on a regular basis. I would definitely pay £5 for it and I would probably pay a maximum of £8.50 on a regular basis. At it's current price of £13 I would only buy this every now and again.
Do I want to buy it again? Yes I do. I think it's a great product. Despite the look of it, It's really easy to apply and thickens your lashes instantly. I'd prefer to buy it from Tj Hughes for the discounted price of £5 but if I can't get my hands on it there then I'd invest in another tube as a treat.
Bryden x