Let's Buy Happiness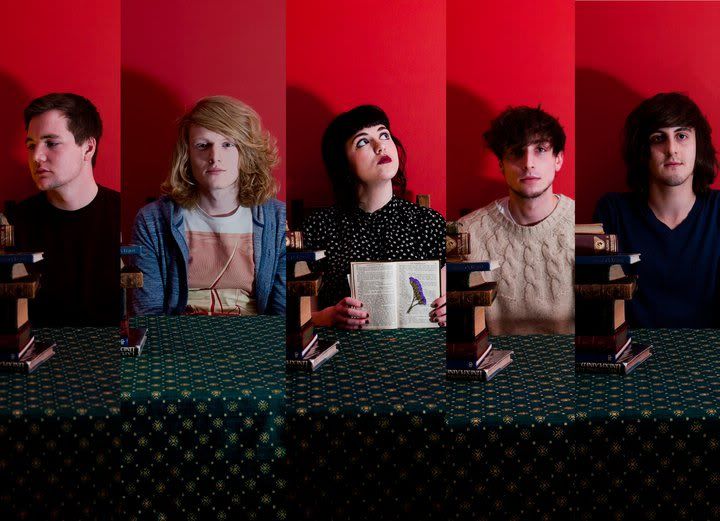 Left to right: James Hall, James King, Sarah Hall, Mark Brown and Graeme Martin. (Photo taken from the band's facebook. Photography by Simon Daniel Smith)
The band I am about to talk may be one of the best things to come out of Newcastle Upon Tyne in recent times (Move over Ant n Dec!). Not only is the band fronted by my best friend, Sarah but their music is only what I can describe as SPOT ON. The first time I heard Sarah perform a song I burst out crying (such a wimp!). Was all too much! That song was was an older version of their song Devil Show. The song has been rearranged now and is better than ever!
The band itself is a lovely mix of art and melodies. Their flyers, posters, music artwork, and t-shirt designs are all drawn by Sarah. Hours of work goes into these drawings and they are absolutely brilliant. Nothing in this band is created half-arsed. They were the band to open the John Peel stage at Glastonbury 2010 and I was lucky enough to go along with the band and had the most amazing time I have ever had at a festival (Thanks Sarah!). Their single 'Six Wolves' was released on October 18th on their own label Ghost Arc Records and are currently working on their album which will be released in 2011.
Here's a few links. Check them out and let me know what you think:
Six Wolves
Clean Mistake Acoustic (My current fave)
Fast Fast (another fave of mine)
Devil Show (live at Maida Vale for BBC Introducing)
Their myspace:
http://www.myspace.com/letsbuyhappinessuk
Facebook:
http://www.facebook.com/home.php#!/pages/Lets-Buy-Happiness/128399670820
Would love to hear what you think.
Bryden x