I went into town yesterday to pick up some things I needed from boots (boring things like cotton pads and faces wipes) but I also picked up a few things as I was walking around.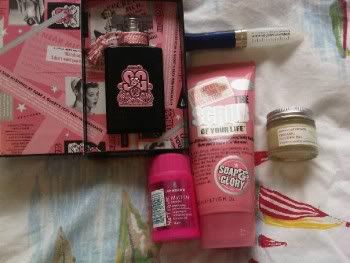 Boots have an offer at the moment for Soap and Glory. If you spend £12 you get a Scrub of your life body scrub for free. It's described as 'the ultimate super-smoothing body butter' and after one use and I can say I love it already. I much prefer it to the Flake away scrub which I find can leave not only me, but my bath oily! To get this product free I bought the Soap and Glory Eau de toilette 'Formula 2'. I am sooo glad Soap and Glory have bought out this fragrance. It has the same smell as their products and it is LOVELY. It is described as having top notes of citrus, bergamot, mandarin, jasmine and freesia on a mix of musks, sandalwood, vanilla and amber. I have no idea what this means as I am rubbish and fragrance smells but I can confirm the smell is lovely. If you like fragrances like Britney spears fantasy and Viktor and Rolf Flowerbomb then you will most probably like this!
I also picked up some Botanics Face super balm as my skin is suffering from the drastic change of weather. It's soo cold at the moment. I have used this a couple of times after buying it and soo far soo good.
I also caved into buying the L'oreal Lash renewal serum. To be honest I don't have much faith in this product as I have and currently use Enormous Lash to keep my eye lashes long. It seems weird to me that you have to apply this product to the whole of the lash rather than the roots. I will have a go at this product in hoping it will keep my actual lashes in good condition and I will carry on using the Enornmous lash.
The last thing I picked up was the Lee Stafford Matt Fat powder. First of all... For £8.99 I would have expected a lot more product in the container! The container is half full. I checked the others and they were all like this. I haven't tried this as of yet so I can't comment on the performance. I'll keep you updated!
Bryden xx