When I went up to Fife in Scotland a few weeks ago I found a little shop in a village called Aberdour. The shop was called 'Mystique Moments' and they sold all kinds of 'witchy' type things like aura sprays, stones, candles and herbs. They also had their own all natural skin care line called 'Green Witch'. I picked up a few products including their light cleansing cream, moisturiser (two types - oily skin and all skin types), 'Morgaines Fountain of Youth - Lip and Eye formula', witch hazel toner and a rose water toner. I did buy the lemon and lime lip balm but it seems to be lost.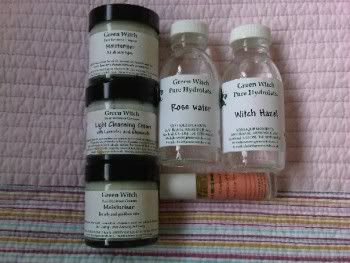 All the products apart from the toners and the lip and eye treatment are beeswax based. The cleansing cream is very effective at removing eye make up and is very very creamy. It does leave a slight residue once tissued off but I find that happens a lot when I try to tissue off a cleanser so I normally rinse with water after. The moisturiser is based on a mixture of beeswax, almond oil and coconut oil and then depending on the moisturiser you purchase certain essential oils will be added to that. For example the moisturiser for all skin types contains lavender water, french lavender essential oil and chamomile essential oil - smells wonderful!. The consistancy of the moisturiser is very daunting at first as I am used to using a cream or a lotion and these are more of an oil once applied to the skin. I haven't used the lip and eye treatment enough to comment on its performance but I can describe the product for you. It is an oil based formula which is rolled around the eye and lip area to delay the signs of wrinkles. The ingredients are not listed as they are a secret blend.
Regarding the toners - They are pretty overpriced for what you get and I expect that you're paying for the glass bottle. However, I am enjoying using these. I use the rose water when my skin needs more moisture and the witch hazel when I feel my skin needs a deeper clean.
I would reccommend this skin care line to anyone. I have noticed a lot less breakouts and skin seems to be more of an even tone. You will have to have an open mind about the moisturiser as it is rather oil like. I have noticed that the moisturiser for oily skin is less like oil and would feel more comfortable to wear on oily skin. The toners are fantastic but at £4.00 for the witch hazel and £5.00 for the rose water I am going to look elseware for cheaper alternatives. I can then store the cheaper version and top my glass bottles up when needed.
If anyone is interested in these products they are available online here: http://www.greenwitch.co.uk/cms/
Bryden x