Hello everyone!
I'm going out for a meal tonight for my Dad's birthday tonight. I wanted to do a smokey grey eye as I'll be wearing a black dress. I kept the lips simple and only used MAC's pink fish lip conditioner.
This is what I ended up with :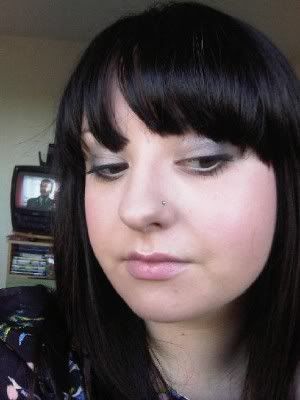 For my eyes I used the beautyUK pallette in number 4 using the lightest beigey shade, the lightest grey and the black. I lined my waterline using a Rimmel Khol pencil in white. For my mascara I used the Maybelline Pulse Perfection. I'm quite impressed with this product but I'm not liking how far up the 'on' button is on the handle.
For my face I used Rimmels Lasting Finish foundation in Ivory with Perfekt transparent primer underneath (fantastic product!). I used MAC's well dressed blush on the cheeks along with a light dusting of MAC's mineralize blush in Style Demon. For my setting powder I used Duwop's Mattillume in lighter. I recently just purchased this and I love it. It's very comparable to MAC's Minerlize Skin Finish natural. Duwop's Mattillume also contains two shades - a lighter one for the whole face and a slighter darker more bronzey shade. I used both of the shades swirled together on the whole face and it gives a lovely finish.
Apologies for the bad photo! I'm having to use my blackberry for photos at the moment.
Bryden xx