Hello Guys!
Before buying a product, I always like to search for reviews and testimonials. YouTube is my first port of call and I am very surprised to find that there are VERY few reviews on YouTube for this product. After buying and trying this product I really can't understand why this is the case. This product is my new love and obsession.

THE BABYLISS BIG HAIR STYLER!! <3
I would describe the Babyliss Big Hair styler simply as a rotating ceramic brush which is also a hair dryer. It doesn't sound all that special from that description but wait until you see it in action. It's basically having an easy blow dry at home!
As I am too scared to create a video myself. Here it is in action:
I purchased this for £44.99 from Argos and in my opinion this is worth every penny! I love how easy it is to use. There are 2 heat settings and also an option of cool air to 'seal the style' after using a hotter setting. The brush rotates 2 ways so it's easy to flick out or shape the hair. Volume is created by letting the hair wrap itself up until near the scalp, stopping the product from rotating, and leaving the hot air to create the volume. After around 30 seconds you can let the styler out. This can be seen in the above video. Shape is created by holding the styler nearer the ends of the hair using the rotating brush to choose if you want a flicked under or out style.
When I first had a go of using the product I was SO scared that I would get my hair tangled around the brush. I did this when I was little with a round brush and my mam ended up having to cut my hair out of it!! On the first go there were NO TANGLES! (phew!) and I found that if I did 'snag' my hair slightly (No hair was broken) it was very easy just to stop the styler from rotating and pull the brush through my hair with ease. Alternatively I could use the other rotating setting to push the hair back out.
I am absolutely IN LOVE with this. When I use this It's like I have stepped right out of the hairdressers.
The result!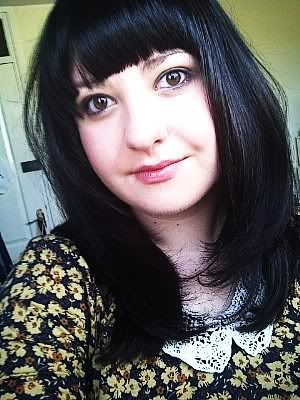 I've been having a good look at the other Babyliss products which are out at the moment and I am thinking about shedding some cash on the Babyliss Root Boost. This is a tiny tiny crimper which you use directly at the root to create even more volume! I might add this to my Christmas wish list!
Have you tried one of these?
Bryden x