Hi there,
I had 6 empty Mac containers so I decided to get along to Mac and hopefully get my hands on the Colour Crafted lipstick from the Colour Craft Collection. I recently saw a video by LucyMarie85 on youtube where she showed the Colour Crafted lipstick and I immediately wanted to have it. It is such a lovely pink colour. It's bright but very wearable. It's already sold out online so a Mac store was my best bet and they had it! There was a little confusion with the girl who served me and the conversation went as follows:
''Hi can I get one of the Colour Crafted lipsticks from the Colour Craft collection?''
''Yeah sure, Which one?''
''Colour Crafted''
''Ok.. which colour are you after..?''
''Colour Crafted''
''OH''
I got there in the end.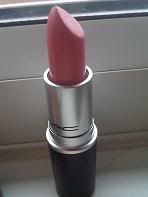 I also picked up Style Demon Blush from the same collection which wasn't in my previous wish list. The blush itself is a brick red colour with gold veining. It is sooo pretty and very pigmentated. I've been using a fan brush with this product to be sure I achieve a wash of colour on my cheeks.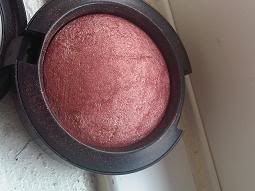 I don't normally go for these types of colours but it was too pretty to pass up. I originally wanted the Daft Pink (love that name!) blush and I still might pick that up if they have any left. I have seen a few videos on youtube where people have been raving about the product and a few have said it's more of a shimmer and doesn't have much colour. If this is the case, Is it really worth having?
Swatches -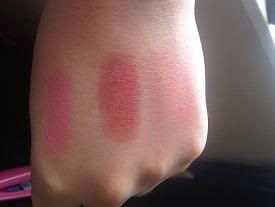 Left - Colour Crafted
Middle - Style Demon
Right - Style Demon sheered out
I wasn't really impressed with anything else in the collection so I think that will be that. I am still interested in the Honey Salve from the Naked Honey Collection so I will be getting that on pay day if there is still some left. That will be the only product I will get from that collection too. I really wasn't loving the perfume fragances.
Sarah