I was running a few errands today and had to stop round my old flat to do some cleaning so I wanted a low maintenance natural look.
Here are the results: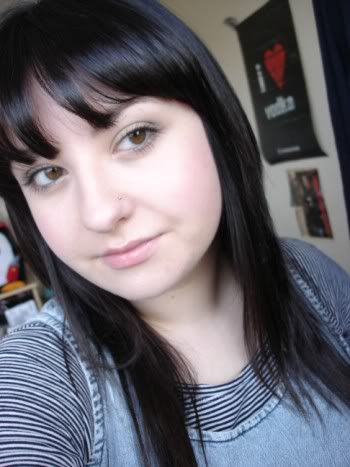 The photos have washed me out a little as I was in front of a window but this is what I used:
Face:
Clinique Superfit foundation - Shell
Benefit Bo-ing concealor - Lite
Maybelline Dream Matt powder - 02 Rose Ivory
MAC Blush - Tippy
Eyes:
Revlon Vital Radiance primer
Bourjois Waterproof eyeshadow - Kaki Branche (all over the lid as a base)
Chilli Pepper eyeshadow quad - The brown collection. (I used the lightest colour all over the lid)
MAC Lucky Tom palette - Lucky Tom (in the crease)
Prestige Waterproof eyeliner - Black (in the waterline)
Rimmel Sexy Curves mascara - Black
Lips:
MAC Lip conditioner - Pink Fish
I'm aware the colours aren't really showing well. I'm going to try some better lighting for next time.
Bryden xx